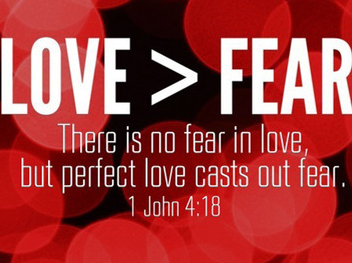 I first wrote this blog earlier this year after the attacks on Paris and Beirut but with recent events like the shooting in Orlando and closer to home the brutal murder of MP Jo Cox I find myself drawn back to this Blog that I didn't share before.
It causes me to reflect again on growing up in Northern Ireland and the hate that caused two communities to keep destroying each other. My parents showed me another way, a response that would bring hope and healing rather than the continuation of destruction. What was this response? Love! Off course it is easy to express love to those we like, those important to us and those we hold dear but to love those who hurt us is more than most of us can bare. Yet it is a love like this that can become our weapon of hope and transform lives.
Hate breeds hate, and I have seen this replayed so many times throughout my life but what about the unsung heroes every day showing love in small acts of kindness even when it costs. I remember the story of a Presbyterian minister that crossed the road in the Northern Irish town of Limavady to shake hands with the Catholic Priest one Christmas morning, it might not seem like a big deal but that Christmas morning that simple act spoke of hope for a nation that was tearing itself apart. In my youth I witnessed ex-paramilitaries from both sides of the community showing forgiveness and worshipping together and it taught me that 'Love wins', it is our strongest weapon.
Stories of hope of a man called Richard Cole from Sierra Leone who took the very child soldiers into his home that killed members of family and loved them like his own children proved to me that love was a weapon stronger than fear. He started the Nehemiah Project a home for boy soldiers (still continued today by his son PJ Cole, one of the Queen's Leaders).These are the acts of people who change nations. The acts of people who fight hate with love.
My parents took a stand of hope, although from a Protestant background they sent me to a Catholic Grammar school. I became part of a seven school project for peace that took representatives from schools across both sides in the community, the possibility of peace in our nation was birthed in the minds of those young people.
I was struck by a friend's post on Facebook as she confessed she heard her three-year-old repeat some of the hateful remarks she had made in response to the attacks in Paris, she suddenly realized what she communicated to her child has such huge implications, she did not want to fight hate with hate and replicate the very heart that had committed these horrific crimes.
So how can we respond, what weapons do we have in our hands. Is this kind of love possible? As I work with women from all faiths and none, some who have been through very traumatic experiences, on a project called Peaced Together, I see how love bridges every difference, be it religious, cultural or political and enables people to begin to experience their own healing as well as reach out the hand of hope to others. To begin to discover common ground on which relationships can be built. The other thing I have learnt is that love is stronger than fear and death. Love is also an action and a choice not just a feeling, it is when we choose to show love despite our feelings that we start to see how powerful this weapon is! In the midst of these dark days it is the stories of hope, courage and love in unlikely places that we are drawn to. Let these be the stories we share with our children, let these be the heroes we celebrate so that they may always know Love wins.