Multitasking can be a very useful skill to have. But when it comes to people, dividing our attention can be damaging to our relationships. I know that when I look at my phone or try to do household chores when I should be spending time with my children, they can become quite naughty and demanding. They behave that way because they feel they have to fight for my attention.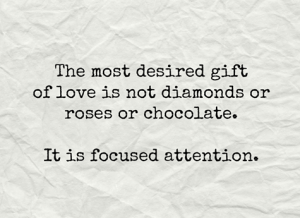 Whether you are spending time with children or adults, making eye contact and being present in the moment makes people feel valued. And that can make a huge difference in a person's life.
Jaime Thurston of 52 Lives says, "Splitting your focus sends a clear signal to the person you're with that they are not worthy of your full attention." Kindness: the little thing that matters most
Giving your attention to the people around you is one of the best ways to show them love and value. So take time to just do one thing this week, with someone you love.