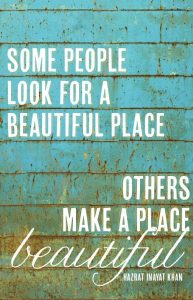 Noticing beauty is so important. It takes our eyes off the stresses of life for a moment and allows us to just appreciate the simple things in life. But it's so easy to focus on the things that are not quite right with our environment.
I grew up in a very beautiful location along the north coast of Northern Ireland but married and settled in East London. For a long time, it was hard for me to notice beauty in my new location – but what I discovered was that when you choose to look for beauty you find it.
In Kindness the little thing that matters most, Jaime Thurston says:
'Rather than seeing rubbish as a blight on the landscape, see it as an opportunity to be kind to the community.'
A friend called Mireille felt inspired to transform a green space in our neighbourhood that often gathered rubbish. She saw the potential for it to be something more than just a dumping ground. Inspired by the vision of our local authority to create 'Sunflower Streets', she got local people involved and together they transformed the green space into a beautiful garden.
As well as the garden space, sunflowers popped up in many shop windows along the street. Mireille saw an opportunity to be kind to her community and she inspired others to join her.
So be inspired to create beauty wherever you are – you could just a plant on your desk. Maybe there's a larger project that you could invite others to join you in?