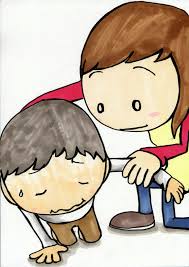 It's not always easy to know how to help when someone is going through a crisis. My rule is that doing something is always better than doing nothing.
It might be a risk – you might say or do the wrong thing! But doing nothing because you are afraid of getting it wrong can leave someone isolated just when they need the most support. The fact is there might be nothing that you can say or do to change the situation, but just knowing you are there can make a big difference. Knowing we are cared for and not alone can give us the strength to face life's difficulties.
In her book 'Kindness the little thing that matters most', Jaime Thurston suggests a number of ways to be kind in a crisis. You could cook a meal or do the school run. But the suggestion that sticks out to me the most is:
"Follow up – support often floods in for someone in the short term, but make sure you check in with people a few weeks or months on."
I am fortunate to be part of a caring church community that rallies round when people face a crisis. Due to a difficult pregnancy, I ended up in a wheelchair for several weeks. Friends brought us meals and offered support for a number of months which was an amazing help at a difficult time.
But I have noticed it can be hard to maintain support for people facing a long term crisis. For example, after the death of a close family member a lot of love and care can be expressed initially. But a few months down the line when reality hits, it can feel like everyone else has moved on with life. How can we show love and care in these situations?
It's also worth thinking about just being there. Practical help can be amazing and just what's needed, but don't forget to sit down and ask someone how they are or just hold their hand and listen.
Have a think about whether there is someone you should check in with today.