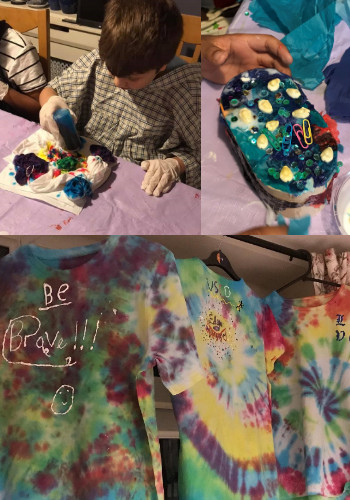 What is Junior Peaced Together?
Junior Peaced Together is a brand new course for children aged 7-11. The craft-based course explores the Peaced Together themes in a way that is accessible to children. Two trainers run the course over ten weeks and each session is an hour long.
How is the children's course different to the adults' course?
Children are not able to articulate their thoughts and feelings in the same way as adults, so we had to develop a new approach.
On the course we use active games, role play, puppet sketches and craft projects to explore the Peaced Together topics. Each session helps the children develop friendships, explore real issues and dilemmas and have a lot of fun. As with the adult course, the children learn new craft skills and complete five projects over ten weeks.
We have a 'worry box' at every session so the children can raise problems they would like to discuss or let a trainer know about.
Why did we develop Junior Peaced Together?
A few years ago we delivered Peaced Together for parents at a local primary school. The Headteacher loved the course and asked whether we would be able to deliver it for children. We edited the materials to make them suitable for children and ran a course with some pupils from the school.
For many years, those materials sat on the shelf. Then we realised there was a huge demand for resources that would support children's wellbeing. Children are under pressure from a young age to do well at school and to fit in with their friends. Many children also face difficult situations at home. They can face extreme peer pressure and often encounter the stresses of social media and online bullying while they are still at primary school.
With Peaced Together for adults already having an impact around the country, we realised we had something to offer. Heidi and Rachel picked up the materials they had used with the school children years ago and worked on fresh ways to look at the Peaced Together themes with a younger audience.
How can I run Junior Peaced Together in my community?
We are currently running a pilot in several locations. If you are interested in delivering the course, contact us and we will get in touch when we run our training days.