Moving forward with hope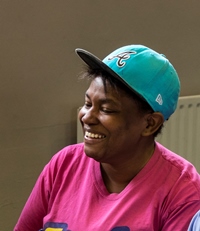 Hope is a cornerstone of Peaced Together. Giving people time and space for hope to begin and to grow is one of the most important aspects of the course.
Marcia has been on Peaced Together twice. As a single mother of four with painful past experiences, thinking about the future used to be almost unbearable for her. "I tried to take each day as it came, but never liked to look ahead – it was too scary." She chose to do Peaced Together for the second time last year as she realised there was more for her to get from the course.
During part 2 of Marcia's Peaced Together journey, one particular session forced Marcia to think about the concept of 'hope'. During the session, she really struggled with the idea. She had been recently homeless and had struggled with depression. To dare to dream that there might be something better in her future than the difficulties she had lived through was challenging. She couldn't think of any hope she held that she could work towards. But the seed had been planted in Marcia's mind and several days later she came running up to her trainer. "I've found it! I've found my hope! I want to learn to drive."
For Marcia, learning to drive is about so much more than just a practical skill – it signifies freedom and independence for her. It was the first time she could see that taking on a challenge and seeing it through would equip her for the future. Marcia says, "Before Peaced Together I didn't like myself. I never thought I could be good at craft." But she soon found that she was. "I realised I could sew! Learning new skills made me think that maybe I could try new things. I realised I could make anything I wanted if I put my mind to it.  I never would have taken driving lessons if it wasn't for Peaced Together."
So much has changed for Marcia since doing the course. "I look at life now so differently," she says. "I don't look at the bad stuff. You can make new things from old. I accept myself now and I don't beat myself up about things." Marcia now makes her own cards to sell and volunteers at The Hub (the venue where she did Peaced Together), running craft activities for others at a Community Café event. She calls The Hub "my sanctuary."
She is one now of our staunchest advocates, "I encourage a lot of other women to do Peaced Together. Anyone can benefit from this course, regardless of whether they have faith or not." She talks about why she did Peaced Together twice: "The first time I did it I was still finding it hard to trust people and I couldn't let go. The second time I processed the things we talked about more deeply and found a hope for life. I could start dreaming about my future."
Peaced Together won't fix everything in life, but it equipped Marcia with new ways to deal with situations: "I still struggle with depression sometimes, but I handle it better now." Marcia recently failed her driving test, but that doesn't matter. She booked another test as soon as she could. When you believe you are going somewhere good, the knockbacks won't stop you from moving towards your goal. Like her Peaced Together journey, it might be second time lucky!
Marcia's advice for anyone considering doing Peaced Together is "Just do it – if you wait until life is settled you will never do it!"