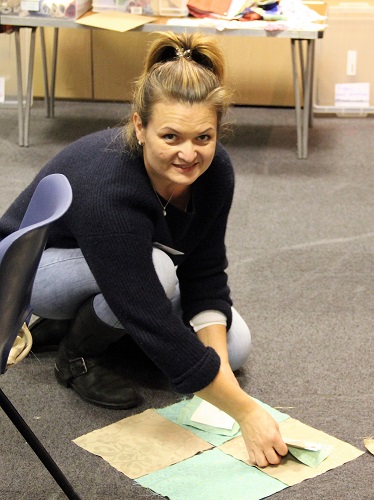 Peaced Together is a creative arts course for women – with a difference.
Using five themed craft projects, Peaced Together encourages participants to reflect on their lives and set out on a personal journey from brokenness to hope.
The five craft projects are completed over ten weeks. Each project helps the group explore topics such as beauty, peace with the past and positive choices.
Churches and organisations can receive training to deliver the course in their communities. Take a look at our current locations
---
  Who is it for?
Peaced Together is suitable for women of any age. We have found that it particularly benefits women who find themselves isolated, depressed or victims of abuse.
The course has benefitted over 100 women so far and courses are regularly run at our partner locations across the UK as well as in the Republic of Ireland and Dominica.
We run training weekends several times a year for churches and organisations that want to deliver Peaced Together. Peaced Together is a Cinnamon Network recognised project and churches may be able to apply for funding to help with the cost of running the course.
Please contact us if you would like to find out more about running a course
---
  Where did Peaced Together come from?
Heidi Singleton, a teacher living in East London, developed Peaced Together in 2012. After a difficult time in her life, she found hope and restoration through the creative process and started writing the course. Read more about Heidi and the Peaced Together team
Peaced Together is part of Community Resources, an organisation established by LifeLine Church to grow creative solutions to local issues. It helps local people establish projects that will benefit their community.
---
  Is the course available in other languages?
We are currently piloting a Creative English version of Peaced Together in partnership with FaithAction This will make the course accessible to women who are speakers of other languages.
We are also developing a Spanish translation of the course and 'Peaced Together for children'.
If you are interested in any of these developments, please contact us
---
  After the course
While doing the course, many women discover a passion for creativity and want to continue developing their skills beyond the end of the ten weeks. Peaced Together Enterprise provides a place where they can do this while learning how to generate income from their craft. We sell unique, handcrafted products.