We are always keen to hear from organisations that would like to run Peaced Together for their clients or contacts.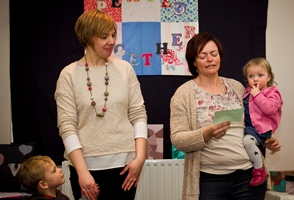 What impact does Peaced Together have?
Peaced Together is suitable for women from all walks of life, but we see a particular benefit for those who are isolated, suffering with depression, victims of abuse or ex-offenders. We often see a marked change in participants as a result of the course.  We have seen individuals return to employment, take up volunteering roles, move on to other courses and become involved in community activities that they would not have considered taking part in before.
  How can my organisation run a Peaced Together course?
There are two ways of running a Peaced Together course:
The Peaced Together Team run a course from your venue. This is dependent on availability and location.
We train your staff or volunteers to run the Peaced Together Course themselves. This involves attending a two-day training event where they will learn about the roots and principles of Peaced Together as well as the practical skills to run the craft activities.
  Resources
We have developed a detailed training manual that provides:
step-by-step guidance on how to run each session
a list of tools and materials needed
discussion questions and resources.
  Prices
Contact us for more information and to discuss prices.