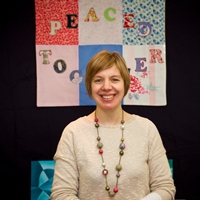 Heidi Singleton developed Peaced Together in 2012. The course came about as she discovered for herself that creativity is a great source of healing and recovery from painful experiences. After a difficult period in her life, Heidi took some time out to focus on her health and wellbeing. Having time to spend being creative was a great source of hope and excitement for her. She recorded her creative journey and developed a series of craft projects to share with other women, each with a specific meaning.
Originally from Northern Ireland, Heidi spent many years working as a music specialist teacher in an East London primary school. She rediscovered her love of craft and creating things through projects with her three children.
We have a great team of volunteers trained to deliver and support the course. We have also provided training to several other organisations that now run Peaced Together.